Find your perfect conversion...
Whether you're looking for that perfect van, minivan, truck, or SUV, our accessible vehicle experts will find the most affordable and reliable option for you. We realize that your vehicle must meet your needs, while suiting your lifestyle. Without a wheelchair accessible vehicle, transporting your mobility equipment can be very tiresome, dangerous, or downright impossible. So don't settle for less! Let Custom Mobility help you find your perfect vehicle..
BraunAbility Wheelchair Vans
BraunAbility Wheelchair Vans of Florida BraunAbility has over 40 years of mobility expertise – the most in the industry. They are dedicated to providing the best handicap lifts and wheelchair accessible vehicles on the market. BraunAbility builds products that are engineered to last and has...
Learn More
ATC Wheelchair Accessible Trucks
ATC prides itself on building the highest quality and most versatile conversion for trucks and SUVs on the road today. Currently, our truck and SUV conversion systems can easily fit in a wide array of 2008 to current GMC and Chevrolet vehicles. We continuously explore new design ideas to expand our ...
Learn More
FR Conversions
FR Rear Entry Wheelchair Van Conversions Since 2009 FR Conversions has been manufacturing rear entry wheelchair vans on the Chrysler, Toyota and Dodge platforms The goal is to make wheelchair vans affordable and maintain the highest quality possible. Converting Toyota, Dodge and Chrys...
Learn More
Freedom Motors
FMI Wheelchair Accessible Vans For over 25 years, Freedom Motors USA, Inc. (FMI) has been building and selling the safest, most reliable wheelchair vans, mobility cars, and accessible SUVs. With unprecedented engineering, top‐rated science, and advanced technology, our conversions are built to ...
Learn More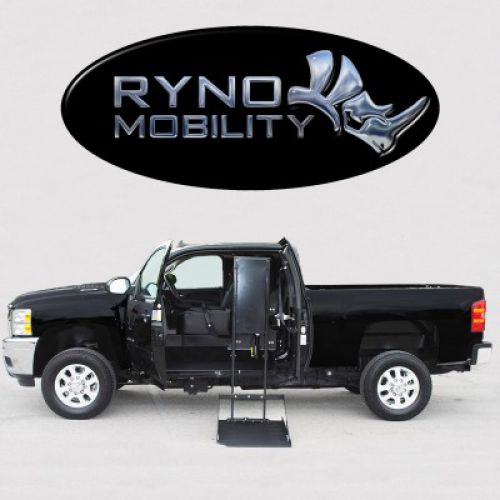 Ryno Mobility
Ryno Mobility has been the leader in accessible conversions for 11 years. We offer many options to personalize your vehicle. Whether you're a contractor, farmer, live in a rural area or are just tired of the same old conversions, RYNO MOBILITY has a solution for you!!! Please call our staff toda...
Learn More
Vantage Mobility International
VMI (Vantage Mobility International) created the first wheelchair accessible minivan in 1987. Since then, they've expanded their conversions to include SUVs, and full size vans. Whether you are looking for a Chrysler, Toyota, Dodge, or Honda, VMI offers a variety of accessible vehicle options ...
Learn More
Commercial ADA Compliant Lifts and Vehicles
If your business is searching for ADA compliant vehicles, you need solutions that are versatile and dependable. Our team has an assortment of options that are perfect for both you and your clients! Whether you need full-size vans or minivans, our team of experts will help determine the mos...
Learn More